It might seem like an oxymoron, but Guyana is determined to use its hydrocarbon sector to fuel a greener future. Offshore discoveries have turned this tiny island-nation into one of the world's newest oil producers. It is a tropical, low-lying country with breathtaking natural landscape with coastal, hilly, sandy, highland, forested, and savannah regions. Geographically it is South American. Culturally it is Caribbean, and a member of the Caribbean Community (CARICOM) listed as a Small Island Developing State (SIDS) by the United Nations.
Over the last seven years, oil companies operating off its coast have found more than 10 billion barrels of recoverable oil and gas.
However, Guyana's fortune has come at a critical moment in the world's fight to slow a warming planet. Its Foreign Secretary, Robert Persaud, used the Island Finance Forum 2022 as a platform to assure participants his country shares in the global concern of climate change, despite now being one of the world's newest oil producers.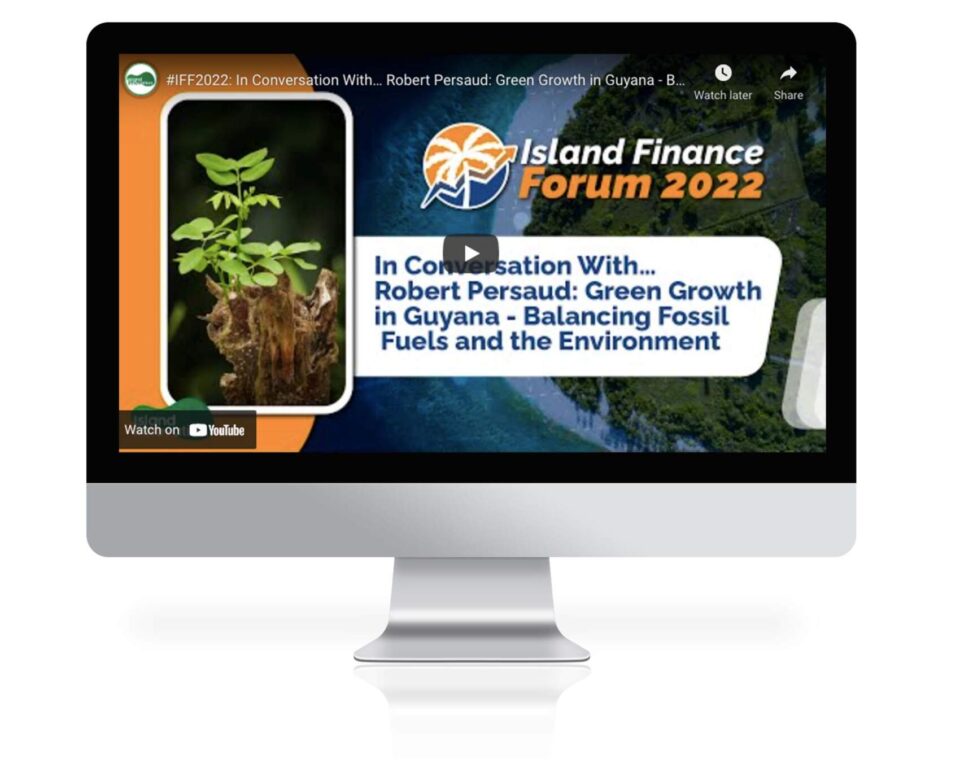 20″While we are pursuing the development of oil and gas, we also have a comprehensive, very strategic and very practical plan in terms of developing our country in a non-polluting way," he told a session on the topic of balancing fossil fuels.
The International Monetary Fund projects an almost 49 percent growth in 2022 for Guyana and with such economic progress, development will go hand in hand. It is welcome news for a country that is one of the poorest in South America, with 43.4 percent of the population living on less than US$ 5.50 per person a day. Additionally, nearly half of nationals with tertiary education leave Guyana and more than 39 percent of its citizens reside abroad.
The Foreign Secretary assured the world at the Forum that Guyana will strategically develop its country and will not create a deforestation problem. Persaud said, "We have a policy where we will not convert forests into agriculture as other countries have done. We will ensure that we have sustainable logging, sustainable extraction of forestry resources. We have a clear-cut policy whereby we have an allowable cut level; that is every operator is given a certain amount of forest material and logs that they can extract within their concession and even in many regards, many of these operators are not fully utilizing that."
The Foreign Secretary told the forum that the economic benefits of the oil and gas sector will be used to diversify Guyana's economy in traditional sectors such as agriculture while expanding through other sectors such as manufacturing and eco-tourism.
"We've seen the development of our oil and gas sector as not being the backbone of our economy but rather being an enabler of our economy in both the short, medium and long term… We've come up with a suite of interventions to ensure that we are able to finance and develop the renewables that we talk about as well as the natural gas sector. We have oil and gas but also oil and gas will be used and utilized to develop the traditional sectors as well as new sectors," he said.
Ryan Bachoo is a journalist from Trinidad and Tobago that has done extensive work in climate change coverage and the impact a warming world is having on the Caribbean region. He led CNC3's coverage of the critical COP26 conference in Glasgow in 2021. He also works in news and current affairs while anchoring shows at CNC3.