The Caribbean region is heavily dependent on tourism, with a record 31.5 million tourist arrivals in 2019. When the global COVID-19 pandemic struck, visits dropped dramatically by an estimated 60% to 80% which had a devastating effect on the region's economy, including that of Curaçao. To counteract the huge reduction in tourism, Curaçao has just launched a new program to attract remote workers and digital nomads, which was announced by Dr. I.S. (Steven) Martina, the country's Minister of Economic Development and Tourism, during Island Innovation's recent post-COVID recovery webinar.
The government of Curaçao has decided that the growing numbers of remote workers worldwide, combined with their increased desire to work abroad, presents an excellent opportunity to help bring people to the island. This may either be for the first time or tourists who had previously visited and would like the chance to stay for longer. The new program they have launched is called '@HOME in Curaçao'.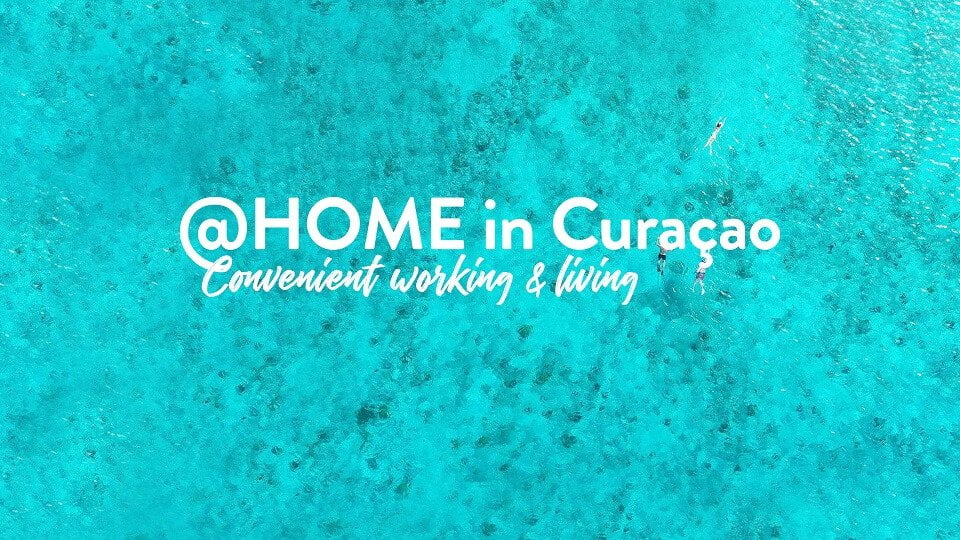 At the beginning of February, Island Innovation ran a successful virtual workshop titled 'Adapting Tourist Destinations for Remote Workers & Digital Nomads in 2021', with speakers from the islands of Madeira, Guadeloupe, Arranmore and Curaçao. Following an introduction to the concept of remote work and digital nomads by Island Innovation founder and remote work expert James Ellsmoor, the first speaker presentation was by Dr. I.S. (Steven) Martina, with details of the @HOME in Curaçao launch.
The program presents a very exciting opportunity for the country to move in a more economically sustainable direction. As was discussed in the webinar, remote workers bring many benefits to destinations that are above and beyond that of traditional tourism. Because remote workers generally stay for longer, typically several months or more, they become more invested in the local economy, environment and community. 
While tourism can undoubtedly create significant economic benefits for a destination, it can also lead to a proliferation of low paying service sector jobs. Tourists often only spend money within the hotels and resorts they stay in, or on services specifically aimed at tourists; they will have saved money for their trip and once that is spent they will leave. By contrast, remote workers will continue earning money while living in a destination, and will likely spend a large proportion of their monthly income in local businesses such as restaurants, cafés, shops, co-working spaces, gyms, and hairdressers. This, therefore, creates an ongoing economic benefit for the local economy. 
As has been shown by the COVID-19 pandemic, it is not economically viable for destinations to be almost entirely dependent on tourism (this is also true of the risks attributed to being solely dependent on any one economic industry in general e.g. former coal mining regions in the UK or the Rust Belt in the US). It is vital that destinations diversify their economies and sources of income, as Curaçao is doing. While tourism will likely remain a large part of its economy once the pandemic has subsided, by encouraging remote workers to stay longer, the country could find itself at less risk from future economic shocks.
In addition to the increased spending of remote workers, Curaçao may reap additional benefits. This includes environmental aspects because as opposed to tourists who may visit a destination for a week or two, remote workers stay for longer, so become more invested in the country itself, rather than just seeing it as somewhere for a holiday. Remote workers may become involved in activities such as beach clean-ups. This is something that the government of Curaçao could encourage incoming remote workers to do, in order to become active and engaged members of the local community.
Remote worker arrivals don't only bring their incomes, but also knowledge, experience and skills, which will help to further strengthen the diversification of the economy of the island. To counteract the effects of the pandemic on Curaçao, including rising unemployment, attracting remote workers to come and live on the island could see the arrival of new start-ups and businesses, thus creating employment opportunities for the local population. It will also encourage a local entrepreneurial scene to begin to flourish, as incoming innovators meet and interact with local entrepreneurs.
In the past, as with many destinations solely dependent on tourism, individuals seeking career opportunities have had to relocate abroad. In the future, as remote workers begin to move to Curaçao, creating businesses and helping the economy to grow, this may also encourage many of the diaspora of Curaçao scattered abroad to return to the island. There would be a new possibility of working for the flourishing local start-up scene, or remotely for businesses outside the island. This is especially the case now that it has been shown throughout the pandemic that remote work is possible for hundreds of millions of workers. As increasing numbers of people work remotely from Curaçao, this will lead to necessary upgrades in the internet infrastructure, so that high speed, reliable internet is available throughout the entire island, as well as the opening of co-working spaces and perhaps remote worker villages. 
To diminish any fears remote workers may have about COVID-19 in Curaçao, the @HOME in Curaçao website states: "While COVID has a strong grip on the world, the number of COVID cases in Curaçao are under control. Travelers are welcome from countries with a low or medium risk status and all travelers need to be able to show a negative COVID-19 PCR-test before departure to the island."
The Curaçao remote work visa offers a maximum stay of 6 months with the possibility of extension (further 6 months) and there are several requirements including a fee of 535 Netherlands Antilles Guilder (ANG) (approx.± US$300).
For more information on the visa, including the requirements and how to apply head to the @HOME in Curaçao website for all the details.
If you need assistance to help market a remote worker visa that has been launched in your destination, or that you are planning to launch, please get in touch with us via our contact page. You can also find out more about how your destination can become a hotspot for remote workers here.