Introduction
The term "academia" can mean different things to different people. For the academic, it refers to the traditions and paradigms that shape their world, focus, and topics of interaction, as well as the knowledge that they seek to explore and build on. For the layperson, academia can often represent a maze of words and puzzling bureaucracy, and can be removed from the realities of everyday life and problem solving.
This article will explore how academia can in fact play a central role in island development and the attainment of the United Nations Sustainable Development Goals, and have increasing relevance in island communities. It is this principle that is at the heart of the creation of Island Innovation's most recent program, the Academic Council.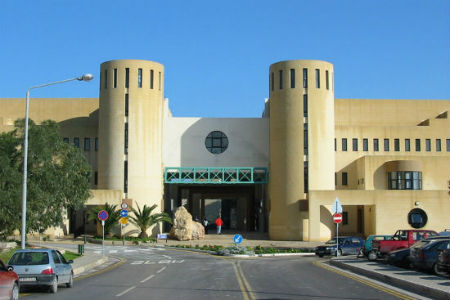 The Concept of Academia
According to Oxford Languages, the term academia refers to the environment or community concerned with the pursuit of research, education, and scholarship. Generally, this type of environment is seen as removed from everyday life and society, and can represent a separation from relatable and relevant experience. However, it is often the case that those within academic circles are in fact highly motivated to research the crucial issues facing society, and strive to break down the barriers that separate their research from those who will ultimately benefit the most from it.
The Role of Education in Island Communities
Education plays a particularly critical role in island communities, as education can be used as a tool to increase awareness about the causes and effects of climate change, as well as a framework to explore ways that implement solutions geared towards adaptation and mitigation. It is particularly important for island communities to focus on fighting climate change, as they are particularly vulnerable to its effects. These effects include rising sea levels, ocean ecosystem degradation due to pollution and acidification, biodiversity loss, and devastation as a result of extreme weather events.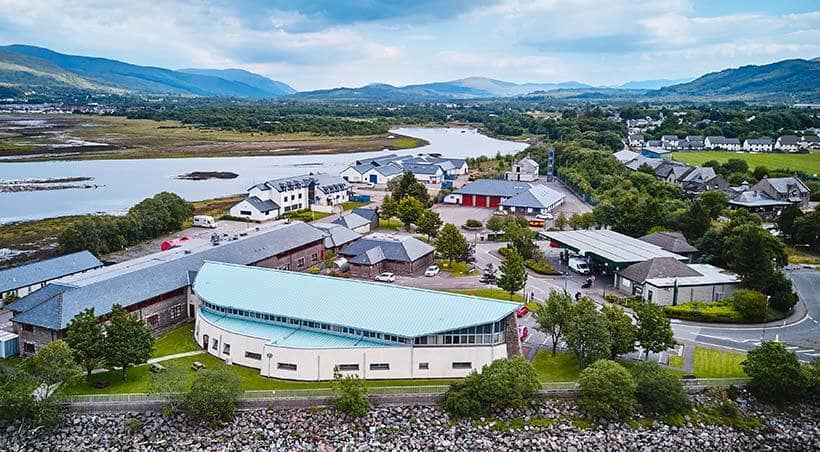 Tha same way that education plays a pivotal role in island communities, so does academia, as it is within the context of educational academia that crucial research is carried out that creates resilience, and informs both the creation and implementation of adaptation and mitigation efforts. In fact, it has been established that the academic research carried out in relation to islands represent an extremely valuable contribution to climate change adaptation, particularly to counter the misrepresentation of small islands as vulnerable or passive.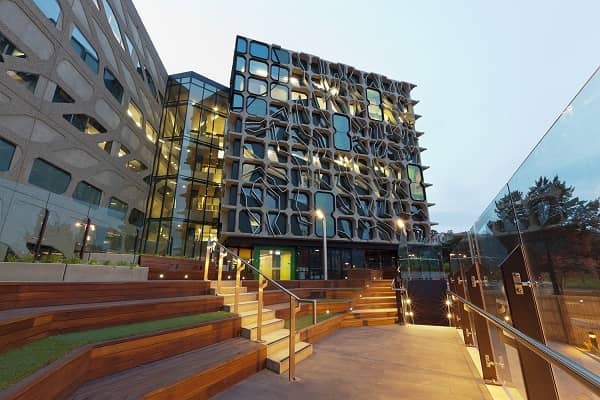 It can therefore be stated that academia in fact plays a crucial role in national development, as the ideas, research, experiments, discoveries, writings and critical analyses that occur in an academic context are fundamental to creating effective strategies for achieving sustainable
development and inclusive growth.
How Academia Can Catalyse Sustainable Development
Sustainable Development Goal 4 (SDG 4) is the educational goal which aims to "ensure inclusive and equitable quality education and promote lifelong learning opportunities for all." One aspect of this goal is to ensure that, by 2030, all learners acquire the knowledge and skills needed to promote sustainable development, including, among others, through education for sustainable development and sustainable lifestyles, human rights, gender equality, promotion of a culture of peace and non-violence, global citizenship and appreciation of cultural diversity and of culture's contribution to sustainable development. These are all areas that are explored within academia, and innovative research can act to fast-track the achievement of all aspects of SDG 4.
Academia also provides a forum for climate change education, which, according to UNESCO, is crucial to promote climate action. It helps people to better understand and address the impacts of the climate crisis, which empowers them with the knowledge, skills, values and attitudes needed to act as agents of change. In island communities, the presence of such agents of change can have a significant effect on communal feelings of hope and purpose in the face of climate change, making an indelible contribution to resilience.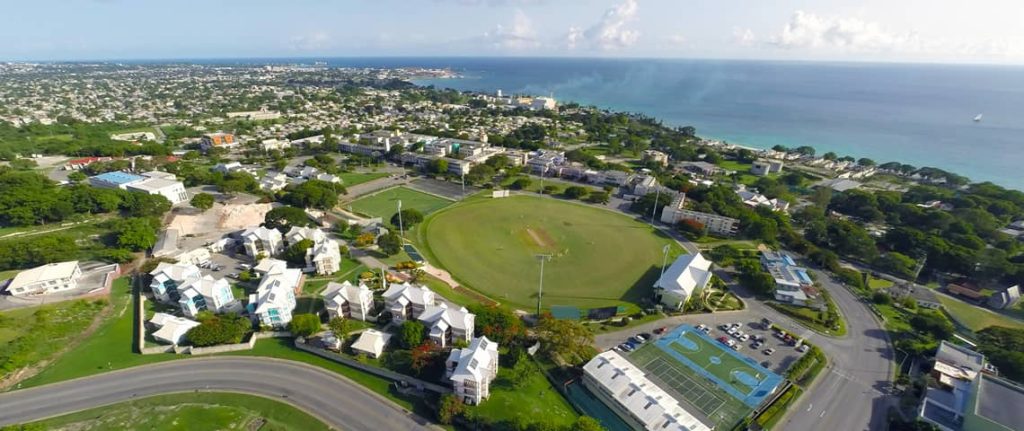 Another reason that academia has a major role in the implementation of the SDGs is that the work carried out in those surroundings forms a solid basis for the development of new technological solutions to meet the unique challenges faced by islands in the quest to fight climate change, and embody positive developmental models.
The Island Innovation Academic Council
The sections outlined above represent some of the core reasons for the creation of the Island Innovation Academic Council. This reflects the fact that, since its inception, Island Innovation has provided credible and reliable information about topics such as sustainability, island connectivity & collaboration, transportation, climate change, the Blue & Orange Economies, biodiversity, renewable energy, conservation, agriculture, food security, diversity & inclusion, climate financing, adaptation & mitigation, blockchain & cryptocurrency, the circular economy, and the UN Sustainable Development Goals. Through the Academic Council, Island Innovation is establishing a greater academic focus on island communities by utilising islands' social, economic and cultural realities as the context for exploring these topics.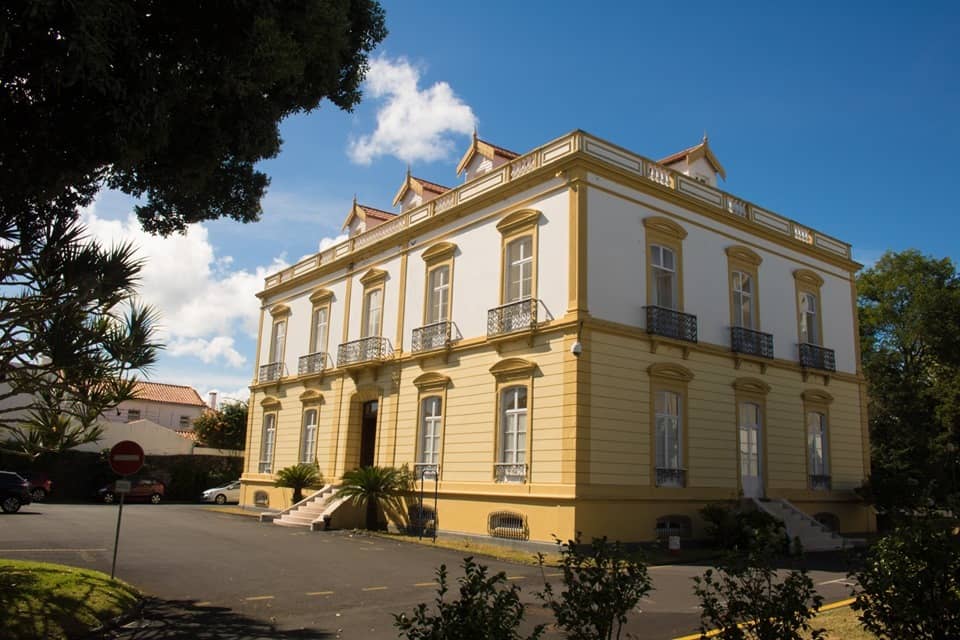 The establishment of the Academic Council facilitates a deepening of the relationships with academic institutions globally through the provision of a mechanism by which they can disseminate their research. An important co-benefit will be the opportunity to maximise the impact of academic research by increasing accessibility to an audience of practitioners and policymakers.
The benefits of joining the Academic Council include:
The opportunity to disseminate articles that may have been previously published in journals to a wider audience, thus making them more accessible both in terms of format and content.
Facilitating the engagement and collaboration of multiple stakeholders, such as researchers, NGOs, and policymakers.
The provision of a global network for researchers to collaborate in relation to areas of common interest in their research.
The membership criteria are outlined in the following graphic: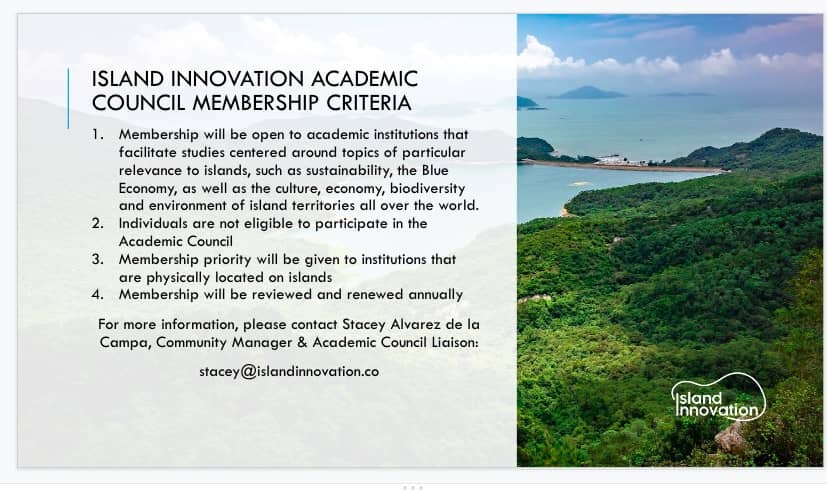 The Founding Members of the Island Innovation Academic Council
Island innovation is pleased to announce that the following institutions are the Founding Members of the Academic Council:
The Center for Island Sustainability, The University of Guam
The Institute for Islands and Small States, University of Malta
University of the Highlands and Islands
Reiner Lemoine Institute, Berlin
University of Tasmania
Waddenacademie, Netherlands
Humboldt Cosmos Multiversity, Tenerife
The Centre for Biosecurity Studies, University of the West Indies
University of Prince Edward Island Institute of Island Studies
Shridath Ramphal Centre, University of the West Indies
Environmental Fridays Inc., as affiliated with Andrews University, Michigan
Jersey Centre of Advanced Studies, UK
Middlebury Institute's Center for the Blue Economy, USA
Small Islands Cultures Research Initiative
Universidad Nacional de Tierra del Fuego, Antártida e Islas del Atlántico Sur
UCL Islands and Coastal Research Lab
InUAc, University of the Azores
South Atlantic Environmental Research Institute
Massey University, New Zealand
Institute of Arts and Social Sciences, Marinduque State College, Philippines
All of the above-mentioned institutions are committed to enhancing awareness in relation to the concept of sustainable development, particularly as it relates to island communities, and discovering solutions for environmental challenges.
For more information about the Academic Council, click here.