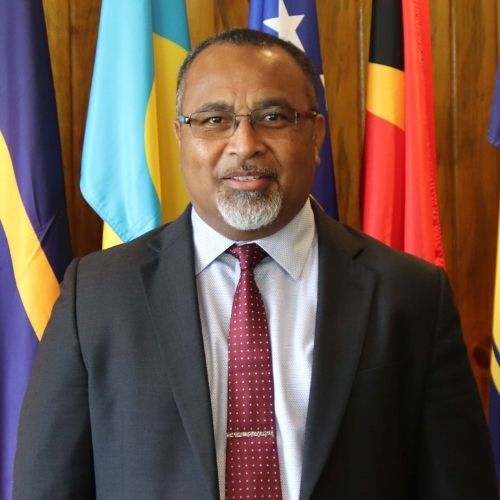 Secretary General, Pacific Islands Development Forum
Ambassador Solo Mara is the Secretary General of the Pacific Islands Development Forum (PIDF), since October 2019.
Ambassador Mara began his career in May 1989 as a graduate trainee at the Ministry of Home Affairs and later on in the Prime Minister's Office and Ministry of Foreign Affairs.
Over the years, Ambassador Mara rose through the diplomatic ranks to serve as Permanent Secretary of the Ministry of Foreign Affairs [2009-2011], High Commissioner to the United Kingdom [2011-2015] and Ambassador to the United States America [2015-2019].
In recognition of his 20 years contribution in the Diplomatic Service of the Republic of Fiji, Ambassador Mara received from the President of Fiji, His Excellency MajorGeneral [Ret] Jioji Konrote, the Fiji 50 Independence Commemorative medal at the State House on October 2020.
Ambassador Mara holds a Master Degree in International Relations from the International University of Japan (1997) and a Bachelors of Arts Degree in Political Science from the University of the South Pacific (1988). He also received various diplomatic training at the Korean Institute of Foreign Affairs and National Security (2000) and the Department of Foreign Affairs and Trade Australia [2006].
Ambassador Mara is married to Kerry Megan Mara and blessed with two daughters and two sons
Ambassador Solo Mara is the Secretary General of the Pacific Islands Development Forum (PIDF), since October 2019. Ambassador Mara began his career in May 1989 as a graduate trainee at the Ministry of Home Affairs and later on in the Prime Minister's Office and Ministry of Foreign Affairs. Over the years, Ambassador Mara rose through the diplomatic ranks to serve as Permanent Secretary of the Ministry of Foreign Affairs , High Commissioner to the United Kingdom and Ambassador to the United States America . In recognition of his 20 years contribution in the Diplomatic Service of the Republic of Fiji, Ambassador Mara received from the President of Fiji, His Excellency MajorGeneral Jioji Konrote, the Fiji 50 Independence Commemorative medal at the State House on October 2020. Ambassador Mara holds a Master Degree in International Relations from the International University of Japan (1997) and a Bachelors of Arts Degree in Political Science from the University of the South Pacific (1988). He also received various diplomatic training at the Korean Institute of Foreign Affairs and National Security (2000) and the Department of Foreign Affairs and Trade Australia . Ambassador Mara is married to Kerry Megan Mara and blessed with two daughters and two sons