Transport plays an essential role for island and coastal communities, and is one of the vectors through which decarbonization can happen. This makes the sector an especially interesting one for innovators and decision makers seeking to improve a key aspect of their communities. Ferries in particular have an intertwined history with islands, and as nations shift away from fossil fuels towards renewable resources, they have come under the microscope. Ferry service providers navigating pathways towards clean energy-powered transport have a wide range of considerations to take into account, including policy, finances, technology, and social dynamics. 
Seeking to highlight the developments within the transportation industry, specifically ferries, the Island Institute, a nonprofit community development organization in Rockland, Maine, assembled an international panel of experts to share their insights during the Virtual Island Summit 2022. Speaking on the panel were Hank Berg, the General Manager of Casco Bay Island Transit District, Halfdan Abrahamsen, Project Manager at Ærø, David Hibbert, Technical Superintendent Development & Infrastructure within the Government of Orkney, Jon Diller, Director of Sales and Marketing at Spear Power Systems, and Naomi Bremner from the Orkney Islands Council. 
The session, moderated by the Island Institute's Community Development Officer, Lisa Millette, highlighted the latest technological advancements being developed within the sector, what the future holds for ferry transportation, and the challenges islands face. One of the biggest red flags identified by speakers were the costs associated with ferry operations, but also the potential cost of transitioning.
Identifying Opportunities & Challenges
"The ferries that operate our services are in excess of 30 years old and have been approaching the end of their operational life for quite some time, but the challenge is that the replacement of those ferries is a massive undertaking," explains Naomi Bremner, prior to David Hibbert expanding, "We use about € 3 million in fuel a year just to keep our ferry service – we have 22,000 people and serve 13 of the islands ." The combination of aging infrastructure and expensive upkeep led the Orkney government to seek out new opportunities that would better suit its needs and wants. Hydrogen immediately became of interest.
An overproduction of wind power meant that the islands' energy network sometimes provided a surplus. Rather than going to waste, this excess energy was used to create green hydrogen that could be stored for future energy use, and the opportunity arose to use it as a potential ferry fuel. Orkney has since committed to a future hydrogen ferry fleet, and is currently working out new regulations and frameworks with transportation boards, something Hibbert notes has taken time, but not dampened their resolve.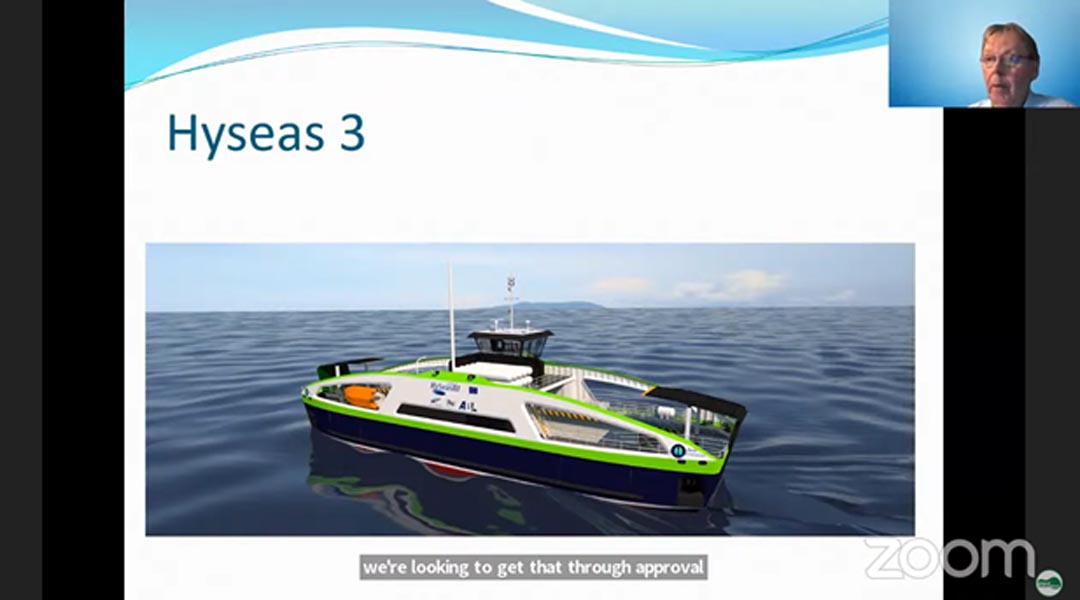 Pioneering New Technologies
Outside of hydrogen, electric-powered ferries using lithium-ion batteries have also garnered support. "Batteries just have a certain ability to really perform in a way that a ferry needs to maintain the frequency," notes Halfdan Abrahamsen. Lithium batteries, already present in electric vehicles, can be scaled up for larger transport methods as well as grid-scale energy storage for renewables. Efficient, powerful, and versatile, John Diller pointed out that hybrid ferries operating with lithium batteries have already pierced into the market in Norway and the United States, and that new developments in lithium technology could enable the shift to entirely battery-powered ferries. A reduction in the amount of CO2 combined with the reliability of back-up diesel power make hybrid vessels a viable option to help transition fleets over time.
Diller also mentions that decommissioned lithium batteries can still be used following the end of their service, "Those batteries still would have utility enacting a stationary –  energy storage for example, for a wind farm or solar farm." This extends their life cycle, and provides opportunities for further resilience building opportunities for island and coastal communities, a point echoed by Hank Berg and Halfdan Abrahamsen, who noted that they had plans in place to shift their ferry batteries to on-site power storage after ten years of service, opening up new avenues for cost savings, energy stability and revenue generation. 
A Ferry Tale in the Making
Emerging from this panel was the understanding that ferry technology is much farther along than many may have realized, and the benefits of a modernized low-carbon ferry line are multi-faceted. From maintaining transport connections with less reliance on expensive imported fuels, to providing opportunities for second life for key components capable of fulfilling critical needs in other sectors, ferry technology has the potential to revolutionize how island communities interact with transport – and how their transportation system interacts with them.
A replay of the panel is available here: