Energy security is a key consideration for island stakeholders. Imported fossil fuels have been the default for power generation for islands and contribute to these communities' high electricity costs. The low-cost nature of fossil fuel infrastructure that islands rely on for energy is also exacerbating climate change, but not all forms of renewable energy can be implemented on islands, so what options do they have?
As Ana Brito e Melo, Senior Advisor at WAVEC and her panel of experts explain Ocean Thermal Energy Conversion (OTEC), a technology that offers a promising solution that works 24/7, all year round and does not require land use. Featuring a keynote from the Hon. Otis Morris, Minister of Home Affairs, Transportation, Broadcasting, Energy and Utilities and Telecommunications Commission for the Turks and Caicos Islands Government, this 2023 Virtual Island Summit session saw Paula Bastos, an Economic and Environmental Impacts Researcher at WAVEC, Sathiabama Thirugnana, Director at Universiti Teknologi Malaysia (UTM OTEC), and  Nikhil Rajana, a Business Analytics Masters Student at Trinity College Dublin break down the uses of OTEC and its benefits for island communities. 
Energy Innovation
The ripple effect of the war in Ukraine has sent fossil fuel prices to new records, and while prices have somewhat dropped since the initial invasion, it remains punitive for communities who have no other energy source.  "Energy security is a critical issue for the Turks and Caicos islands, which relies heavily on fossil fuels for its energy needs," began the Hon. Otis Morris, "It is no secret that we in the Turks and Caicos islands, like many others in the region, are struggling with the higher than normal cost of energy – this is concerning for our government, as we see how it impacts our people." Indeed, governments across the Caribbean are looking to diversify their energy portfolio to leverage local resources including geothermal, hydroelectric, solar, and wind. 
These energy sources are not available to all however, and islands' biggest resource, their marine space, is not being used effectively.  PLOTEC, a pan-European consortium, is working to design a severe-weather resistant OTEC structure, which could avoid huge electricity issues after tropical storms and provides a new level of energy security for island nations. Designed to work in tropical areas, OTEC uses the natural temperature difference within the ocean to produce energy, specifically the heat from the ocean surface and cold water in deeper waters to drive a turbine. As such, the technology can run reliably 24/7. "[OTEC] holds the potential to reshape the energy landscape, particularly in tropical islands and pave the way for a cleaner and more resilient future," notes Paula Bastos.
A technology that is being developed at small-scale following decades of research, OTEC is only just beginning to be discussed as a viable energy source for islands and coastal nations. The first commercial-scale OTEC platform will be installed in Sao Tome and Principe by 2025, by Global OTEC., and the Turks and Caicos have expressed interest in hosting the first Caribbean platform in a move that could revolutionize how the nation and region generate power. "OTEC represents a promising future solution to address the challenge of energy security," continues Minister Morris, "its potential benefits make it a compelling option for consideration."
Future of Renewables
OTEC has the power to transform power generation on tropical islands, it offers a clean and renewable energy solution that reduces carbon footprints and stabilizes energy costs – but the benefits do not stop there. In her presentation, Sathiabama Thirugnana outlines how OTEC can also be used to generate green hydrogen and be used as a desalinator, but also within a closed system for seawater-based air conditioning, something Thirugnana posits can make it a versatile standalone solution for specific communities or businesses. The ability for OTEC to be used in different applications makes it an interesting investment opportunity for island nations with limited funding resources, and suggests that multiple challenges can be addressed through its implementation.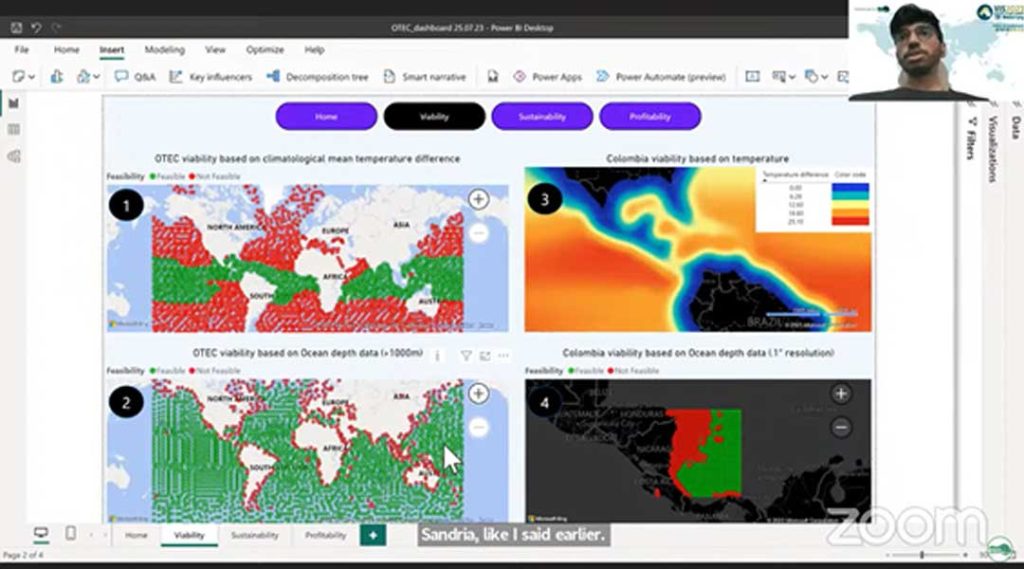 Pointing to a map highlighting the most promising OTEC installation locations across the tropics, Nikhil Rajana states, "There's tremendous potential for this OTEC to be installed and for people especially from islands. I think there's a huge potential across all these islands for OTEC to be installed." While the panel was bullish about the opportunities presented by OTEC for island communities, they did touch on the technical and financial challenges to overcome, including scale of operations, costs and maintenance – issues associated with all forms of power generation. That being said, the potential benefits that this technology could generate make it a promising opportunity for island communities.